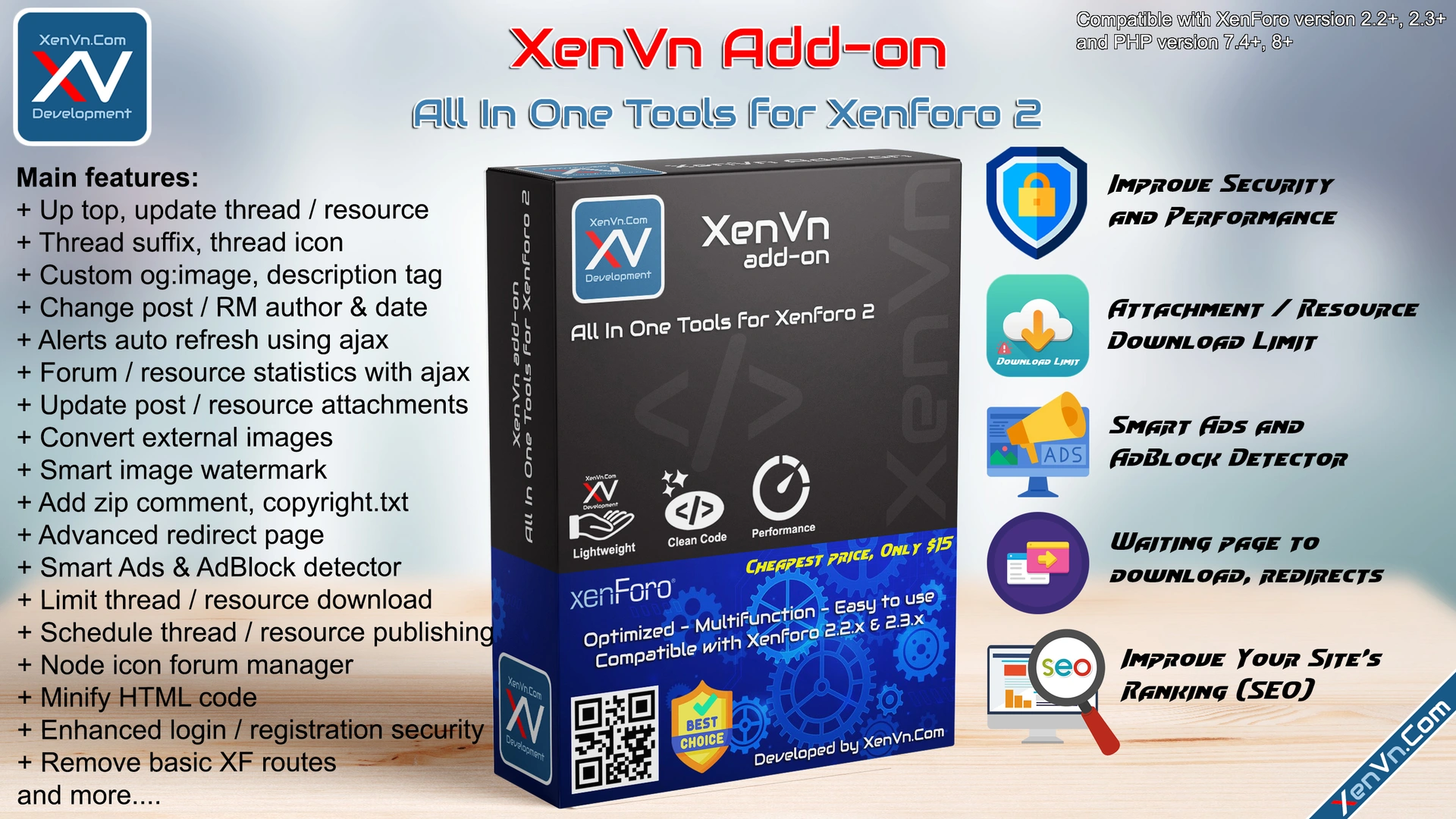 ​
XenVn is a All-In-One tools for Xenforo 2 with optimized code, multi-function and easy to use...
With XenVn, your forum will be Easier to Manage, better Performance, improve SEO rankings and reduce conflict errors.
XenVn is integrated with more than 50+ useful features, compatible with most popular add-ons and styles.
XenVn add-on is developed based on the original Xenforo platform, so it is highly compatible, easy to use and develop.
Compatible with XenForo version 2.2+ and PHP version 7+, 8+ (free technical support during the license period).
Main features:

​For Thread:
Featured thread slider
Thread statistic with ajax load
Popular tags statistics
Search thread when page not found
Thread statistics with cache
Thread suffix
Optimal thread metadata, og:image
Smart ads display & adblock detector
Thread title length limit
Block duplicate thread title
Display DMCA badges
Auto Watch Thread
User Mention button
For Attachment:
Resource reredirect page (XFRM)
Smart adblock detector
Limit more ip download
Convert Webp to JPG
Compress image use imagick
Add zip comment copyright
Add attachment prefix
Block right-click
Detect user leaving redirect page
For User:
Verified user group icon
Alerts auto refresh
User group max file size upload
User can view all images, text attachments
Limit new-register each IP
Whitelist email domains
Send user upgrade complete notice
For Experience:
Minify HTML output
Node icon manager
Collapse block button
Ripple effect when click
Defer loading google analytics
Defer loading google ads
Hide lightbox thumbnail by default
Optimize the display for XF
Optimize CSS, Jquery, Font for SEO
For Security:
Remove health check
Disable upgrade check
Remove extra copyright
XenVn health check
Rebuild tool:
Rebuild threads metadata
Rebuild images watermark
Rebuild zips comment
and more...
Easy to configure and use with Setting Panel:

​
Easy manager with User Group Permissions:

​
Optimizing for SEO:

​
Release Changelogs:

​Version 1.2.3 (23/05/2022)
Remove some unnecessary features
Change the name of some settings
Note when upgrading to the new version:
After the upgrade is complete:
1. Delete the following files: src/addons/XV/Service/Definitions/whitelist.txt
2. Some settings will be reset, you need to reconfigure, see in XenVn Setting panel

After you upload new files to the system, some error messages may appear (not always). Don't worry, you just need to upgrade the add-on to complete, the errors will not appear anymore. After upgrading, access the XenVn Settings panel, press the Save button to check the information that needs to be updated.
View all release changelog logs here...
PM
@xenvn
if you need more information or support.
Download older versions...
Free technical support during the license period​
Nếu bạn là khách hàng Việt Nam, bạn có thể thanh toán chuyển khoản qua Ngân hàng, chi phí là 600.000 VNĐ cho mỗi bản quyền 12 tháng.

Vui lòng chuyển khoản vào Số Tài Khoản bên dưới. Sau đó PM

@xenvn

bằng tài khoản XenVn của bạn với thông tin nội dung thanh toán. Chúng tôi sẽ nâng cấp tài khoản cho bạn sau khi thanh toán được xác nhận.

Tên ngân hàng:

Ngân hàng Nông nghiệp và Phát triển Nông thôn Việt Nam (AGRIBANK)

Chủ tài khoản:

Phạm Hoàng Nhân

Số tài khoản:

7102205391665

Chi nhánh:

huyện Ba Tri - Bến Tre
Copyright by XenVn.Com​
After you have purchased the license. You are free to use this source code. But you are not allowed to resell or re-share it. If we detect a violation, your license will be revoked, and your domains will be blacklisted. Thank you for your purchase.
Sau khi bạn đã đặt mua bản quyền. Bạn được toàn quyền sử dụng mã nguồn này. Nhưng bạn không được phép rao bán lại hoặc chia sẻ nó. Nếu chúng tôi phát hiện vi phạm, giấy phép của bạn sẽ bị hủy bỏ, và các tên miền của bạn sẽ được đưa vào danh sách đen. Cảm ơn bạn đã đặt mua.
When XenVn license has expired (you do not renew it). You can still use it, but you won't be able to update to the new version.
Khi giấy phép XenVn đã hết hạn (bạn không gia hạn lại). Bạn vẫn có thể tiếp tục sử dụng, nhưng sẽ không thể cập nhật phiên bản mới.
Last edited: