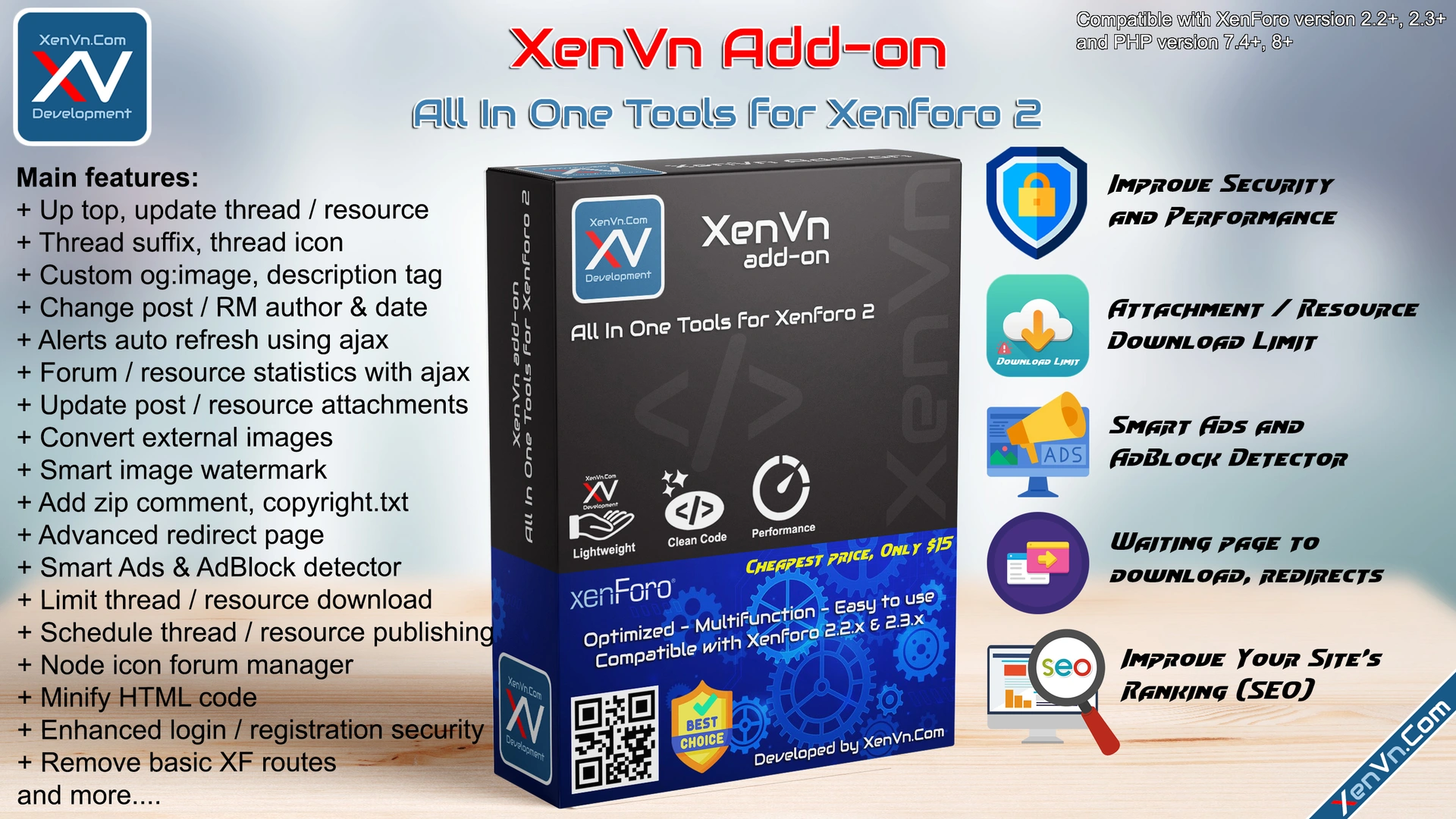 ​
XenVn add-on
is an All-In-One tools for Xenforo 2, with optimized code, multi-function and easy to use...
With XenVn, your forum will be easier to manage, better perform, improve SEO rankings and reduce conflicts between addons.
XenVn is integrated with more than 69+ useful features, compatible with most popular add-ons, styles and XFRM.
XenVn add-on is developed based on the original Xenforo platform, so it is highly compatible, easy to use and develop.
Compatible with XenForo version 2.2+ and PHP version 7+, 8+.
XenVn add-on là một công cụ tất cả trong một (All-In-One) dành cho Xenforo 2 với thiết kế tối ưu, đa chức năng và dễ sử dụng...
Với XenVn, diễn đàn của bạn sẽ dễ quản lý hơn, hoạt động tốt hơn, cải thiện thứ hạng SEO và giảm xung đột giữa các addon.
XenVn được tích hợp hơn 69+ tính năng hữu ích, tương thích với hầu hết các tiện ích, giao diện và XFRM.

XenVn add-on được phát triển dựa trên nền tảng Xenforo gốc nên có tính tương thích cao, dễ sử dụng và phát triển.
Tương thích với XenForo phiên bản 2.2+ và PHP phiên bản 7+, 8+.
Main features:

​For Threads & Posts:
Featured thread slider
Thread statistic with cache & ajax load
Popular tags statistics
Search thread when url not found
Thread suffix
Optimal thread metadata, og:image
Smart ads display & adblock detector
Block duplicate thread title
Display DMCA badges
Like or reply to download attachment
User mention & Scroll top button
Captcha when create thread
For Attachments & External Links (support XFRM):
Smart adblock detector
Block right-click
Detect user leaving page
Force queue countdown time.
Convert webp to jpg
Compress image use imagick
Add zip comment copyright
Add attachment prefix
For Resource Manager:
Resource statistics
Resource redirect page
Smart ads display & adblock detector
Like or Reply to download
Resource download log
Auto og:image, og:description tag
Inheriting features of Attachments & External Links
For User:
Verified user group icon
Alerts auto refresh
User group max file size upload
User can view all images in posts
Limit new-register each IP
Whitelist email domains
Send user upgrade complete notice
Captcha when edit account, post profile, conversation
For Experience:
Minify HTML output
Node icon manager
Collapse block button
Ripple effect when click
Defer loading google analytics
Defer loading google ads
Hide lightbox thumbnail
Optimize CSS, Jquery, Font for SEO
Vietnamese friendly URL
For Security:
Remove health check
Disable upgrade check
Remove extra copyright
XenVn health check
Rebuild tool:
Rebuild threads metadata
Rebuild images watermark
Rebuild zips comment
Rebuild font Awesome
Supported languages:
Demo site:
https://demo.xenvn.com
Facebook:
https://www.facebook.com/xenvn.addon
Twitter:
https://twitter.com/xenvn91
Easy to configure and use with Setting Panel:

​
Easy manager with User Group Permissions:

​
Improve your Site's Ranking (SEO):

​
Release Changelogs:

​Version 1.4.0 (30 Sep 2022)
Fix bug: Thread Image when using User Avatar
Change First Post Date when using Uptop Thread (for SEO)
Add new: Demo Users (Demo user will be limited: change username, password, email)
XenVn add-on now fully supports XFRM, with most important features
View all release changelog logs here...
PM
@xenvn
if you need more information or support.
Download older versions...
What will you get when you upgrade to VIP?
Become a VIP member on XenVn.Com
Download and use XenVn add-on
Free technical support for XenVn add-on (via Teamviewer)
Nếu bạn là khách hàng Việt Nam, bạn có thể thanh toán chuyển khoản qua Ngân hàng, chi phí là 400.000 VNĐ cho mỗi bản quyền 12 tháng. Khi bản quyền hết hạn (bạn không gia hạn lại), bạn vẫn được tiếp tục sử dụng add-on nhưng không thể cập nhật phiên bản mới.

Vui lòng chuyển khoản vào Số Tài Khoản bên dưới. Sau đó PM

@xenvn

bằng tài khoản XenVn của bạn với thông tin nội dung thanh toán. Chúng tôi sẽ nâng cấp tài khoản cho bạn sau khi thanh toán được xác nhận.

Tên ngân hàng:

Ngân hàng Nông nghiệp và Phát triển Nông thôn Việt Nam (AGRIBANK)

Chủ tài khoản:

Phạm Hoàng Nhân

Số tài khoản:

7102205391665

Chi nhánh:

huyện Ba Tri - Bến Tre
Copyright by XenVn.Com​
After you have purchased the license. You are free to use this source code. But you are not allowed to resell or re-share it. If we detect a violation, your license will be revoked, and your domains will be blacklisted. When the license expires (you do not renew it), you can continue to use the XenVn add-on, but cannot update to a new version. Thank you for your purchase.
---
xenvn add-on, xenvn xenforo, xenvn add-on for xenforo 2, xenvn for xenforo 2, xenvn all-in-one tools​
Last edited: