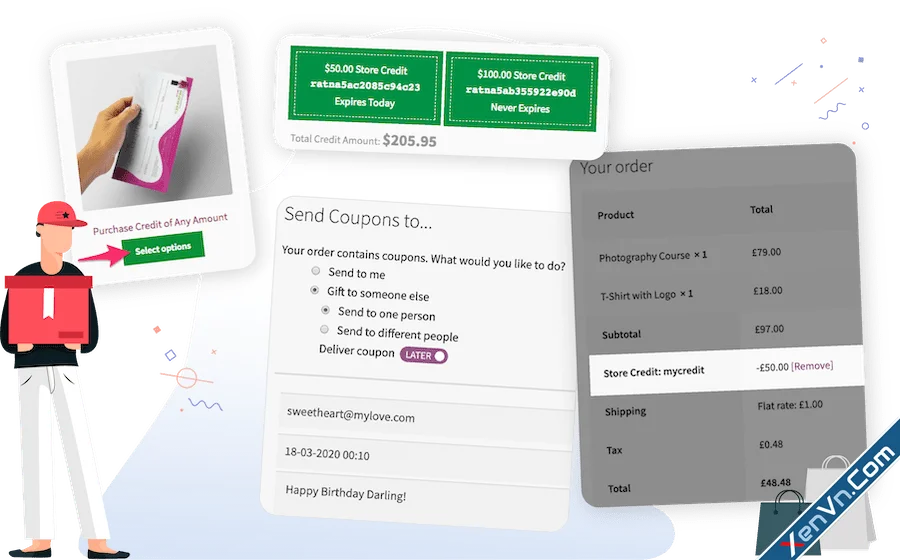 Everything you need for discounts, coupons, credits, gift cards, product giveaways, offers, and promotions. Most popular and complete coupons plugin for WooCommerce.

Most complete, most loved, best-supported, best-coded, best-selling credits, coupons, discounts, and vouchers plugin for WooCommerce
Alright, that's a lot of superlatives, but they are all true.
All the features: Keep reading to discover powerful features you'll get with Smart Coupons. But it includes everything from selling store credits and gift cards, advanced coupon restrictions, automatic coupon issuance, free gift coupons, generating coupons in bulk, nice designs, quick management and a lot more.
Best-selling: Smart Coupons is an all-time best-selling plugin on WooCommerce. More than 15,000 customers rely on it to run their businesses.
Top rated: People love the plugin and leave five-star reviews. You'll find real reviews from people like you as you scroll through this page.
High performance: Smart Coupons does not slow down your site or checkout process. Some of the largest WooCommerce stores use it, and you too can rely on its quality.
Easy to use: It's super flexible, yet intuitive. Store admins and junior staff can easily run promotions using Smart Coupons – without needing developer assistance.
Genuine, Compatible, Regular Updates: You're getting 100% genuine and original plugin when you buy today. Smart Coupons have been tested with popular other plugins and we keep improving it regularly. No risks here!