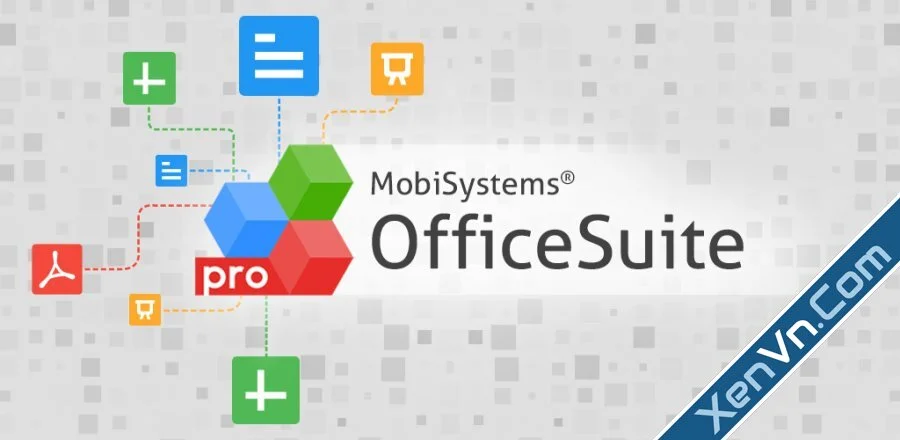 OfficeSuite Android cho phép bạn dễ dàng xem, chỉnh sửa và tạo tài liệu Word, Excel, PowerPoint và PDF từ cơn bản đến nâng cao. Với trình quản lý tệp tích hợp và vô số các công cụ tiện dụng khác làm cho giải pháp văn phòng trên di động phong phú hơn.
OfficeSuite Speed update The latest OfficeSuite Pro is our fastest ever, with drastically improved speed across the entire app! Try it and see the difference!
The most downloaded office app on Google Play
Delivers the most exclusive features over any other office app
Installed on 200 million devices in 205 countries and growing
Over 50 million downloads alongside 55,000 daily activations
OfficeSuite lets you easily view, edit, and create Word, Excel, and PowerPoint documents, convert to/from PDF, and manage your files all with the most feature-rich mobile office solution available for Android smartphones and tablets.
Preloaded by top manufacturers including Sony, Amazon, Acer, Alcatel, Toshiba, Sharp, YotaPhone, Archos, Polaroid, Kyocera and Kobo
GOOGLE PLAY EDITORS' CHOICE AWARD WINNER
INFOWORLD'S TOP MOBILE OFFICE
LIFEHACKER BEST ANDROID OFFICE APP
PCMAG EDITORS' CHOICE AWARD WINNER
THE LATEST OFFICESUITE 8 IS SPECIALLY DESIGNED AROUND ANDROID 5 LOLLIPOP:
Advanced networking support for the integrated file manager (access FTP servers, Samba networks, etc.)
Custom header, footer, and page number options for Word documents
Add freehand drawings over PowerPoint slides
Cast presentations across multiple devices on the same network with Share Cast
Use Quick Sign to easily sign a PDF using your digital signature
KEY FEATURES:
View, create and edit complex office and attachments all from a familiar desktop-style interface.
Full compatibility with Microsoft formats including DOC, DOCX, DOCM, XLS, XLSX, XLSM, PPT, PPTX, PPS, PPSX, PPTM, PPSM.
Support for PDF files including PDF camera scanning and Export to PDF.
Additional support for common formats like RTF, TXT, LOG, CSV, EML, ZIP; Open Office – ODT, ODS and ODP – support (available as in-app purchase).
Integrated File Browser for quick and easy access to both local and remote files, My Documents folders and document templates.
Sharing via cloud services like Box, DropBox, Google Drive, OneDrive, Amazon Cloud Drive and SugarSync, as well as over email, Bluetooth, and Wi-Fi Direct.
PDF security and editing features including digital signatures support, permissions management, text to PDF, and annotations.
Available in 56 languages.
ALSO AVAILABLE AS PART OF OFFICESUITE PREMIUM:
Security features – work with password protected files
Convert PDF to Word, Excel, or ePub
Track changes with multiple author support
QuickPDF Scanner – easily scan documents and images with your camera
PhotoSuite Professional – MobiSystems' powerful photo editing app
QuickWrite predictive keyboard – quicken your typing based on usage patterns
Microsoft Compatibility Font Pack – view documents the way they're meant to be seen with officially licensed office fonts
Spell check – make sure your important documents are error free.
Download OfficeSuite Premium - Unlocked Full - Latest:
mega.nz
Last edited: