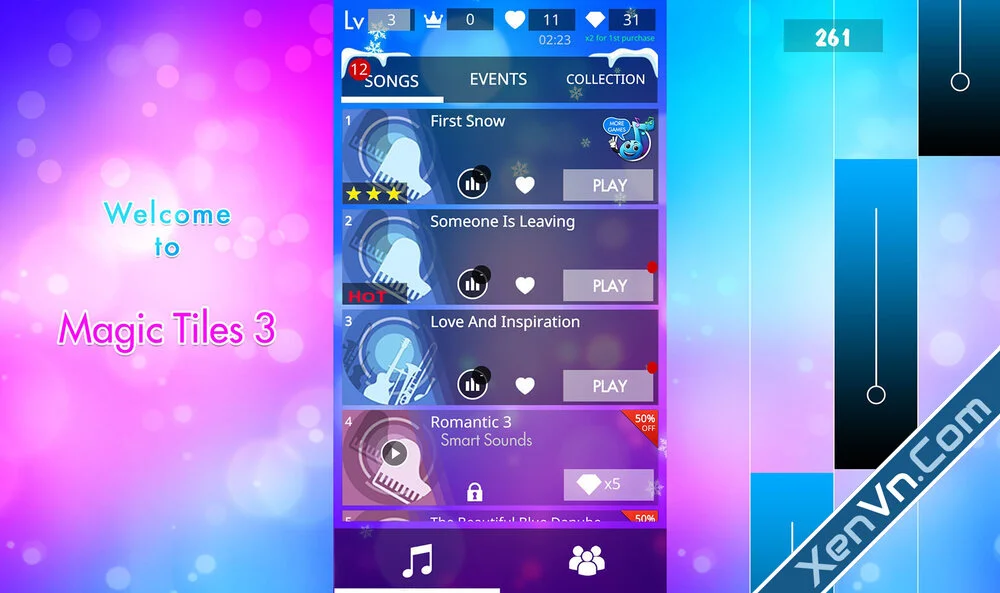 Đu đưa không phải là hư, đu đưa là để lắc lư cho đỡ buồn
Lắc lư luyện ngón ngay với Magic Tiles 3, cùng những bài hát HOT nhất trên Magic Tiles 3!
Bản cập nhật mới có gì?
- Cập nhật những bài hat HOT nhất với hiệu ứng lung linh đẹp mắt
- MIỄN PHÍ gói VIP - không giới hạn số mạng chơi - không quảng cáo
Còn ngại gì nữa mà không tải ngay và chơi thôi
Luật chơi vô cùng đơn giản: Lắng nghe bản nhạc, cảm nhận giai điệu và chạm vào những phím đen khi chúng đến gần vạch ngang!
CÁC CHẾ ĐỘ CHƠI:
- Chế độ thường.
- Chế độ thi đấu: đấu với người chơi trên toàn cầu và thăng hạng khi chiến thắng!
- Chế độ chơi nhiều người - kết nối dữ liệu với tài khoản Facebook chơi cùng bạn bè.
*****
Play Magic Tiles 3 for free on mobile today!
It is a special game in different genres of piano games and wonderful gameplay.
Rule of the game :
It's similar to other piano games, just tap the black tiles and avoid the white tiles. That's all !
Game features:
- Real music feeling when tapping the black tiles
- Many HOT songs with great vocals are frequently updated
- Many genres of music: POP, EDM, classical, country, Latin,..
Do not hesitate to try free piano online! This excellent piano game has more challenges in store for you than you imagine.
Permission: In order to provide the optimal experience, we ask for "Storage" permission when you download this game
Become a real pianist today!
Download Magic-Tiles-3-v7.084.005-Mod:
app.box.com