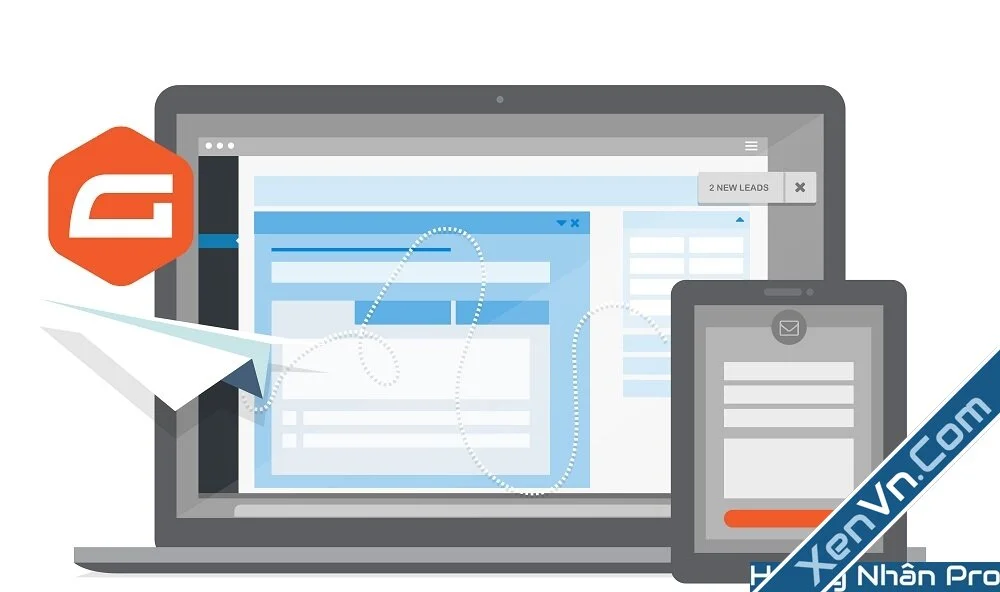 Gravity Forms is the Easiest, Most Trusted Tool to Create Advanced Forms for Your WordPress-Powered Website.
All the Tools You Need to Build Professional Forms.
Packed with tons of time-saving tools & features… Gravity Forms is the only WordPress form management plugin you will ever need.
Build and publish your WordPress forms in just minutes. No drudgery, just quick and easy form-building. Select your fields, configure your options and easily embed forms on your WordPress-powered site using the built-in tools.
Addons:
Gravity Forms RocketGenius Add-Ons:
Gravity Forms 2Checkout Add-On v1.0
Gravity Forms ActiveCampaign Add-On v1.6
Gravity Forms Advanced Post Creation Add-On v1.0-beta-2
Gravity Forms Agile CRM Add-On v1.2
Gravity Forms Authorize.Net Add-On v2.6
Gravity Forms AWeber Add-On v2.8
Gravity Forms Batchbook Add-On v1.3
Gravity Forms Breeze Add-On v1.3
Gravity Forms Campaign Monitor Add-On v3.7
Gravity Forms Campfire Add-On v1.2.2
Gravity Forms Capsule CRM Add-On v1.3.1
Gravity Forms Chained Selects Add-On v1.1.3
Gravity Forms CleverReach Add-On v1.5
Gravity Forms Constant Contact Add-On v1.0
Gravity Forms Coupons Add -On v2.8.3
Gravity Forms Debug Add -On v1.0.beta11
Gravity Forms Dropbox Add-On v2.2.1
Gravity Forms Emma Add-On v1.2.5
Gravity Forms FreshBooks Classic Add-On v2.5.2
Gravity Forms GetResponse Add-On v1.2
Gravity Forms Gutenberg Add-On v1.0-rc-1.2
Gravity Forms Help Scout Add-On v1.5.1
Gravity Forms Highrise Add-On v1.3
Gravity Forms HipChat Add-On v1.2
Gravity Forms iContact Add-On v1.3.1
Gravity Forms Mad Mimi Add-On v1.2
Gravity Forms MailChimp Add-On v4.6
Gravity Forms Mailgun Add-On v1.1.1
Gravity Forms Partial Entries Add-On v1.3
Gravity Forms PayPal Payments Standard Add-On v3.1.1
Gravity Forms PayPal Payments Pro Add-On v2.3.3
Gravity Forms Pipe Add-On v1.1.1
Gravity Forms Polls Add-On v3.2
Gravity Forms Postmark Add-On v1.0
Gravity Forms Quiz Add-On v3.1.8
Gravity Forms SendGrid Add-On v1.2
Gravity Forms Signature Add- On v3.7
Gravity Forms Slack Add-On v1.8
Gravity Forms Stripe Add-On v2.6.0.5
Gravity Forms Survey Add-On v3.3.1
Gravity Forms Trello Add-On v1.2.2
Gravity Forms Twilio SMS Add-On v2 .5.2
Gravity Forms User Registration Add-On v4.0.6
Gravity Forms Webhooks Add-On v1.1.5
Gravity Forms Zapier Add-on v3.1.2
Gravity Forms Zoho CRM Add-On v1.5.2
Gravity Forms ForGravity Add-Ons:
Easy Passthrough for Gravity Forms v1.4.1
Entry Automation for Gravity Forms v1.4.4
Entry Automation Dropbox Extension v1.0.1
Entry Automation FTP Extension v1.0
Entry Automation Amazon S3 Extension v1.0.1
Live Population for Gravity Forms v1.4.5
Gravity Forms CodeCanyon Add-Ons:
Gravity Forms Styles Pro Add-on v2.4.4
Gravity Forms Range Slider v1.1
Gravity Forms - List & Edit v2.3.0
Gravity Forms SMS Pro v1.0.7
Gravity Forms Invitation Codes v3.0
Double Opt in for Gravity Forms (GDPR & DSGVO compliant) - E-Mail Address Verification v1.8.1
Rcwd Upload for Gravity Forms v1.1.7.0
Gravity Forms - WPDB / MySQL Connect v3.6.0
Lastform v2.1.1.6 - Affordable Typeform alternative for WordPress
Form Generating PDF v3.5.8 - Contact Form 7
Gravity Forms Formidable Forms to PDF - Wordpress plugin
Gravity Forms Other Add-Ons:
WooCommerce - Gravity Forms Product Add-Ons v3.3.8
Gravity Forms Multilingual v1.5.0
Gravity Forms Encrypted Fields v4.4.4
JetSloth:
Bulk Actions Pro for Gravity Forms v1.2.23
Gravity Forms Bulk Add Fields v1.0.3
Gravity Forms Collapsible Sections v1.0.14
Gravity Forms Image Choices v1.2.11
Gravity Forms Color Picker v1.0.4
Last edited by a moderator: