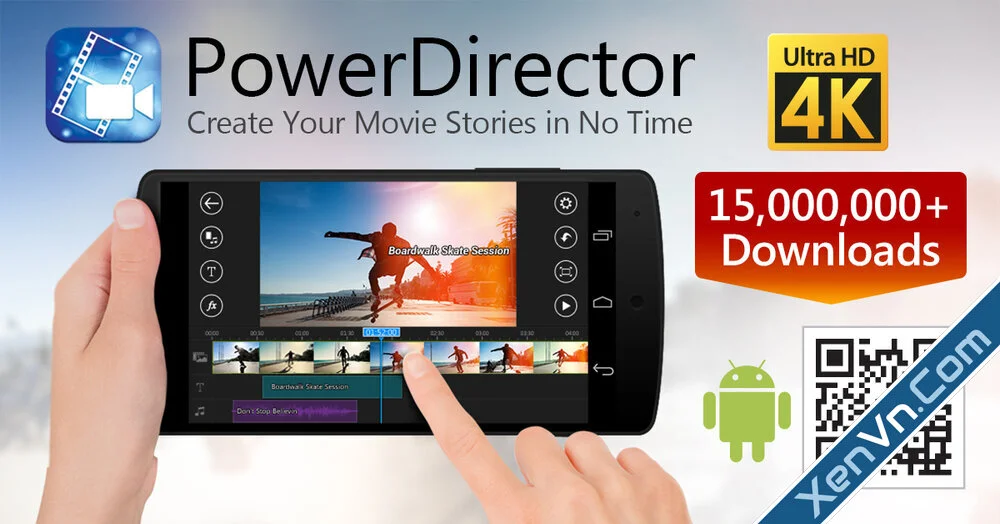 PowerDirector - Video Editor App là ứng dụng android giúp bạn tạo các video tuyệt đẹp, chất lượng cao như các chuyên gia - nhanh chóng và dễ dàng.
Cho dù bạn đang tạo phim theo phong cách điện ảnh, video về cuộc phiêu lưu mới nhất của bạn hoặc kết hợp các clip để chia sẻ những khoảnh khắc thú vị, đáng nhớ, PowerDirector là ứng dụng chỉnh sửa di động hoàn hảo dành cho bạn.

Với nhiều lựa chọn công cụ chỉnh sửa mạnh mẽ và giao diện ứng dụng đơn giản, trực quan, bạn sẽ thấy mình tạo ra các video mà ngay cả chính mình cũng phải kinh ngạc, cùng với những người theo dõi bạn.

Giải phóng sự sáng tạo của bạn. Tạo video chuyên nghiệp chất lượng cao - nhanh chóng.
PowerDirector được xây dựng với tốc độ và tiện ích trong tâm trí. Tối ưu hóa trên các thiết bị 64 bit, chỉnh sửa mượt mà hơn, nhanh hơn và thú vị hơn. Khám phá trí tưởng tượng của bạn và tạo video trực quan tuyệt đẹp, bất cứ nơi nào và bất cứ khi nào bạn cần.

Make stunning, high quality videos like professionals – quickly and easily.
Whether you're creating cinematic style movies, videos of your latest adventure or combining clips to share exciting, memorable moments, PowerDirector is the perfect mobile editing app for you.
With a large selection of powerful editing tools that are updated monthly and a simple, intuitive app interface, you'll find yourself creating videos that'll even amaze yourself, along with your followers.
Unleash your creativity. Create high quality professional videos – fast.
PowerDirector is built with speed and utility in mind. Optimized on 64-bit devices, editing is smoother, snappier and more fun. Explore your imagination and create visually stunning videos, wherever and whenever you need.
Professional editing tools to get excited about:
[new]
Keyframe controls
- Adjust the transparency, rotation, position and scale for picture in picture and masks.
1. Edit and export videos in up to
4K resolution
*
2. Produce fast-forward or slow-motion videos with
speed adjustment
3. Fix shaky cam footage with
video stabilizer
4. Replace background with green screen editor by using
chroma-key
5. Create stunning double exposure effects from video
overlays
and
blending-modes
6. Upload straight to
YouTube
and Facebook
Precise editing tools to create every type of video:
• Trim, splice and rotate videos with simple taps
• Control brightness, color and saturation with precision
• Apply jaw-dropping effects and transitions with drag & drop
• Combine pictures and video in one clip using the multi-timeline
• Add text or animated titles to your video in seconds
• Add voiceovers recorded on your mobile device a built-in editor
• Create video and picture collages with PiP overlays*
• Enjoy hundreds of free templates, effects, filters, background music and sounds
Unlimited updates, features and content packs with PREMIUM.
Access all the professional tools you need with our flexible subscription options:
• Exclusive premium content (color filters, titles, transitions and video effects)
• Stock media content - even for commercial use (music, stickers, stock footage, sounds)
• Professional editing features for the best speed and video quality
• Ad-free and distraction free
• Enjoy unlimited access to our massive, royalty-free stock library powered by Shutterstock. Create captivating video projects with hundreds and thousands of professional stock video, photo and music
Download CyberLink PowerDirector All-In-One-Unlocked - Lasted:
mega.nz
Last edited: