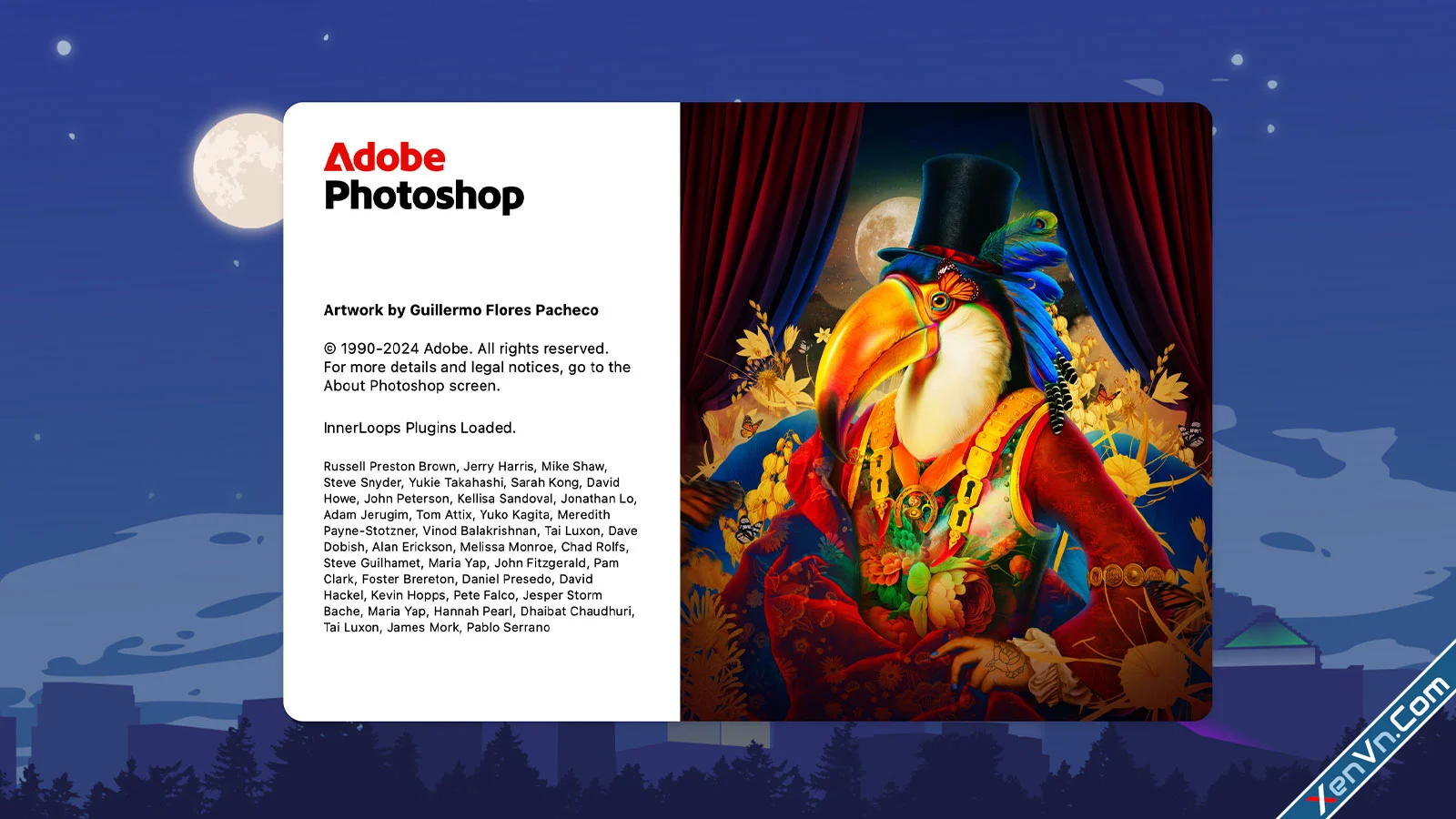 Adobe Photoshop
is an industry-standard image editing program used to edit graphics and digital photos. The application includes standard drawing and selection tools and unique features that make it a go-to tool for many graphic designers and photographers.
Photoshop is primarily a pixel-based raster graphics editor but also supports basic vector-based editing. It can import and export a wide variety of image formats, including .JPG, .PNG, .BMP, .TIFF, .TGA, and .PDF. However, it saves images in the Photoshop Document (.PSD) format by default (.PSB format for documents with images larger than 30,000 x 30,000 pixels or 2 GB in size).
The PSD format supports layers, which are isolated groupings of graphics that you can edit independently. You may set layers to be visible, hide layers, give layers a custom opacity setting, and more. You can also create adjustment layers, which apply non-destructive adjustments to one or more layers at a time.
If you are beginning to use Photoshop, the application may look daunting with its many tools, but the home screen allows for quick and easy access to tutorials and templates to help you get started. As you become more familiar with the user interface and adjust it to your work style, Photoshop saves your preferences to keep the layout familiar.
Photoshop's more advanced and unique features include the Patch tool, which automatically removes blemishes, and the Object Removal Guided Edit tool removes unwanted objects and matches the background with the surrounding area. In addition, if you want to adjust the colors of an image, you can use the Levels, Curves, or Color Balance controls. The application also comes with Auto Color and Auto Levels tools for automatically enhancing images with a single click. While Photoshop includes many powerful built-in features, you can add even more capabilities to the program by installing plugins.
Adobe Photoshop 2022 là một trình chỉnh sửa đồ họa rất chuyên nghiệp được xây dựng đặc biệt để giúp bạn tạo ra những bức ảnh kỹ thuật số ấn tượng. Đây là chương trình chỉnh sửa ảnh duy nhất trong ngành có khả năng đáp ứng nhu cầu của tất cả các nghệ sĩ trong thế giới kỹ thuật số. Đây là một ứng dụng đáng tin cậy với một loạt các công cụ sáng tạo và cung cấp hỗ trợ để nâng cao hình ảnh kỹ thuật số một cách dễ dàng.
Download Adobe Photoshop 2023 24.2.1 - PreActive - No Virus (tested 03/2023):
mega.nz
Password:
xenvn.com
Extra:
C:\Windows\System32\drivers\etc\hosts
127.0.0.1 genuine.adobe.com
127.0.0.1 assets.adobedtm.com
127.0.0.1 cc-api-data.adobe.io
127.0.0.1 ic.adobe.io
Last edited: